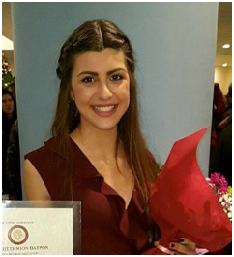 Tsagdh Artemis
Phone: (+30) 2610 997117
Fax: (+30) 2610 997122
Email:
Tsagdh Artemis, graduated in 2016 with a degree in Chemistry from the University of Patras. In the year 2015-2016 she completed her research work on "Quality control physicochemical analysis at all stages of beer production-Analysis of acidity of wines produced by fermentation of Corinthian currant residues at low" in Athenian Brewery S.A.- Patras in cooperation with the Department of Chemistry, in the Division of Food Chemistry, supervised by Assistant  Professor A. Bekatorou. In October of 2016 she enrolled as postgraduate student in a research program entitled "Synthesis and study of the properties of alkaline polymer membranes for energy applications" at the Department of Chemistry, University of Patras.