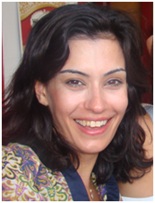 Chrysovalado Deimede
Phone: (+30) 2610 962958
Fax: (+30) 2610 997122
Email:
Chrysovalado Deimede is an Assistant Professor in the Department of Chemistry at University of Patras. She received a BS in Chemistry from the University of Patras in 1997, and a PhD in Polymer Chemistry from the same university in 2001. She spent one year post doc (2002-2003) at the Max Planck Institute of Polymer Science (Mainz, Germany) and three years at FORTH-ICE/HT and University of Patras (Department of Chemistry). From 2006 to 20011, she worked as a senior researcher in Advent Technologies S. A. and then she joined the Department of Chemistry (University of Patras) in January 2012. Her research activities are focused on the development of new polymeric membranes for use in energy related applications such as fuel cells, lithium ion batteries. She is a co-author of 21 publications in peer-reviewed journals that have received over 540 citations (h-factor=13).