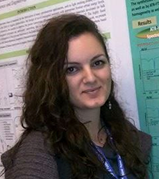 Drouvari Dionysia
Phone: (+30) 2610 997117
Fax: (+30) 2610 997122
Email: 
Druvari Denisa, graduated in 2014 with a degree in Chemistry from the University of Patras. In the year 2011-2012 she completed her research work on "Microbiological analysis of beer – Production of Low-Alcohol Beer" in Athenian Brewery S.A.- Patras in cooperation with the Department of Chemistry, in the Division of Food Chemistry, supervised by Professor M. Kanellaki. In April of 2014 she enrolled as postgraduate student in a research program of the Chemistry Department of the University of Patras entitled "Advanced Polymeric and Nanostractured Materials".