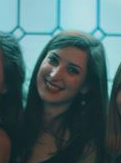 Simitzi Konstantina
Phone: (+30) 2610 962958
Fax: (+30) 2610 997122
Email: 
Simitzi Konstantina, acquired her BSc in Chemistry in 2014 from the Department of Chemistry, Univeristy of Patras. During March-May 2013 she worked as an intern at Korres Natural Products. Her Master of Science in Synthetic Chemistry started in September 2014 in the Polymers Laboratory in the Division of Applied, Analytical and Environmental Chemistry, supervised by Prof. Joannis Kallitsis.