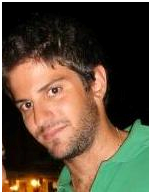 Panagiotis Giannopoulos 
Phone: (+30) 2610 997117
Fax: (+30) 2610 997122
Email:
Giannopoulos Panagiotis, Acquired his BSc in Chemistry in 2011 from the Department of Chemistry, University of Patras. In the year 2009-10 he completed his research work on "Novel broadly absorbing sensitizers with cyanovinylene 4-nitrophenyl segments and various anchoring groups: Synthesis and application for high efficiency dye-sensitized solar cells", in the Polymers Laboratory in the Division of Applied, Analytical and Environmental Chemistry, supervised by Prof. J. Mikrogiannidis. In 2011 he was enrolled as postgraduate student in a research program of the Chemistry Department of the University of Patras entitled "Advanced Polymeric and Nanostractured Materials".