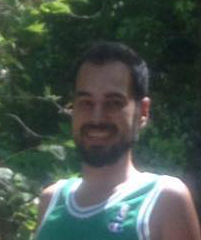 Lempotesis Konstantinos 
Phone: (+30) 2610 997117
Fax: (+30) 2610 997122
Email: 
Konstantinos Lempotesis, acquired his BSc in Chemistry in 2014 from the Department of Chemistry, University of Patras. In the year 2010-11 he completed his research work on "Synthesis of b Chain of Insulin like 4 peptide (INSL-4)" for his diploma thesis, in the Division A of Organic Biochemistry and Natural Products, supervised by prof K. Barlos,. In November of 2014 he enrolled as postgraduate student in a research program of the Chemistry Department of the University of Patras entitled "Advanced Polymeric and Nanostractured Materials".