Polymeric Materials with Biocidal Action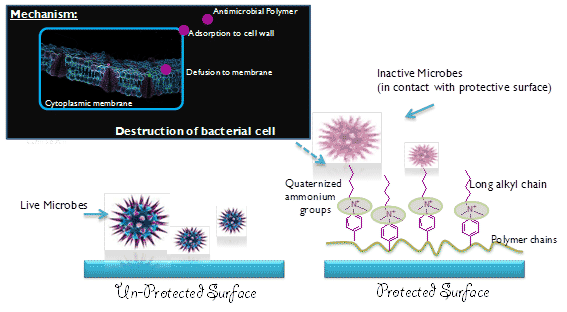 Requirements that must be fulfilled by Polymeric biocidal materials:

Environmentally friendly
Non-toxic
Economically viable
Antifouling & antimicrobial activity to a broad range of pathogenic microorganisms
Longevity of their action

Synthetic Methods
Incorporation of antimicrobial agents to performed polymers
Synthesis of antimicrobial monomers & subsequent polymerization
Introduction of biocidal agents in polymeric materials

Introduction through electrostatic interactions (temporary binding)
Introduction through covalent attachment (permanent binding)
Action of the antimicrobial polymeric materials
Controlled release of antimicrobial agents
Destruction of bacteria immediately on contact
Functional Polymeric Materials with Permanent and/or Controlled Released Biocidal Species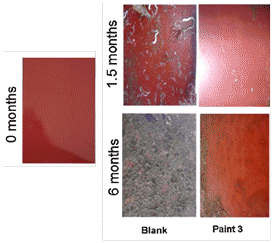 Relevant Publications:
S. Ikonomopoulou, A. K. Andreopoulou, A. Soto, J. K. Kallitsis, G. A. Voyiatzis, "Controlled Release of Antimicrobial Substances from Polymeric Matrices",J. Controlled Release, 102, 223 (2005).
M. Tyllianakis, E. Dalas, M. Christofidou, J. K. Kallitsis, A. Chrissanthopoulos, P. G. Koutsoukos, C. Bartzavali, N. Gourdoupi, K. Papadimitriou, E. K. Oikonomou, S. N. Yannopoulos, D. Sevastos. J. Mater. Sci.: Mater. Med. 21, 2201 (2010).
E. K. Oikonomou, Z. Iatridi, M. Moschakou, P. Damigos, G. Bokias, J. K. Kallitsis  Development of Cu2+- and/or phosphonium-based polymeric biocidal materials and their potential application in antifouling paints, Progress in Organic Coatings 75 (2012) 190–199.
E. Kougia, M. Tselepi, G. Vasilopoulos, G.Ch. Lainioti, N.D. Koromilas, D. Druvari, G. Bokias, A. Vantarakis, J.K. Kallitsis "Evaluation of antimicrobial efficiency of new polymers comprised by covalently attached and/or electrostatically bound biocidal species, based on quaternary ammonium compounds", Molecules 20, 21313–21327 (2015).
D. Koromilas G. Ch. Lainioti G. Vasilopoulos A. Vantarakis, J. K. Kallitsis "Synthesis of antimicrobial block copolymers bearing immobilized bacteriostatic groups", Polymer Chemistry 7, 3562-3575 (2016).
Granted Patents:
C. Katsichtis, E. Tsartolia, A. Papadopoulos, S. Ikonomopoulou,K. Andreopoulou, A. Soto, J. Kallitsis, G. Voyiatzis. European Patent Number: 04386006,3/6-5-2004.
"Antimicrobial and antifouling properties of polymer blends based on polystyrene sulfonated phosphonium salts combined with various polymer matrixes" E. Oikonomou, C. Papadopoulou, I. Kallitsis, G. Vogiatzis, S. Oikonomopoulou, C. Katsichtis, Gr Patent Number GR 1005443 B1, Date 15/02/1007.